the heart is a lonely hunter: a supernatural season five fanmix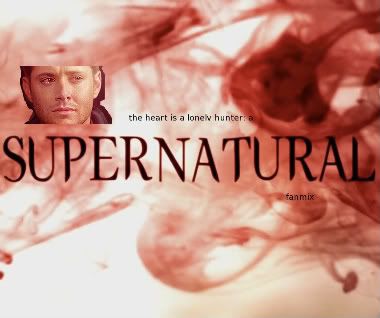 escape- 30 seconds to mars: 5.01
I don't believe in fate
But the bottom line
It's time to pay
You know you've got it coming
the chain- fleetwood mac: 5.01
break the silence
damn the dark, damn the light
(i can still hear you saying you would never break the chain)
my body is a cage- arcade fire: 5.02
My body is a cage
We take what we're given
Just because you've forgotten
That don't mean you're forgiven
doesn't remind me- audioslave: 5.03
I walk the streets of Japan till I get lost
Cause it doesn't remind me of anything
With a graveyard tan carrying a cross
Cause it doesn't remind me of anything
an end has a start- editors: 5.03
I don't think that it's
Gonna rain again today
There's a devil at your side
But an angel on the way
You came on your own
That's how you'll leave
in the end- linkin park: 5.04
What it meant to me will eventually be a memory of a time when
I tried so hard
And got so far
But in the end
It doesn't even matter
for whom the bell tolls- metallica & the san francisco symphony orchestra: 5.10
Take a look to the sky just before you die
It's the last time you will
Blackened roar, massive roar, fills the crumbling sky
Shattered goal fills his soul with a ruthless cry
Stranger now are his eyes to this mystery
He hears the silence so loud
Crack of dawn, all is gone except the will to be
Now they see what will be, blinded eyes to see
For whom the bell tolls
dark on fire- turin brakes: 5.13
So take all that you know and stuff it in a hole,
And in ten thousand years someone will take you home,
Rewind the words in which you roam
paint it black- the rolling stones: 5.14
I look inside myself and see my heart is black
I see my red door, I must have it painted black
tears in heaven- eric clapton: 5.16
Would you know my name
If I saw you in heaven?
Would it be the same
If I saw you in heaven?
I must be strong
And carry on
'Cause I know I don't belong
Here in heaven
god's gonna cut you down- johnny cash: 5.16
Well you may throw your rock and hide your hand
Workin' in the dark against your fellow man
But as sure as God made black and white
What's done in the dark will be brought to the light
You can run on for a long time
Sooner or later God'll cut you down
seven day mile- the frames: 5.18
Your will changes everyday
It's a road you've come upon
I can't help you if you want to
Down here nothing gets a chance
It's a threat that's real enough
We can burn this bridge or stay here
say when- the fray: 5.18
Maybe god can be on both sides of the gun
never gone, understood why
some of us never get it so good,
so good
some of this was here before us
all of this will go after us
It never stops until we give in, give in, say when
losing my religion- r.e.m.: 5.18
Every whisper
Of every waking hour I'm
Choosing my confessions
Trying to keep an eye on you
Like a hurt lost and blinded fool
Oh no I've said too much
I set it up
beat the devil's tattoo- brmc: 5.20
There is no peace here war is never cheap dear
Love will never meet it it just gets sold for parts
You cannot fight it all the world denies it
Open up your eyelids and let your demons run
die by the drop- the dead weather: 5.21
Let's dig a hole in the sand, brother

Starve off the land for worse or better

Get right down to the bottom

If one goes I'll do the other


Some people die just a little

Sometimes you die by the drop
things have changed- bob dylan: 5.21
I've been walking forty miles of bad road

If the Bible is right, the world will explode

I've been trying to get as far away from myself as I can

Some things are too hot to touch

The human mind can only stand so much

You can't win with a losing hand
just like jesse james- cher: 5.22
So if you're so tough
Come on and prove it
You heart is down for the count and you know you're gonna lose it
Tonight you're gonna go down in flames
Just like Jesse James
valentine's day- linkin park: 5.22
And the clouds above move closer
Looking so dissatisfied
And the ground below grew colder
As they put you down inside
But the heartless wind kept blowing, blowing
"these are the days of miracles and wonder, Dean"- Meg, 5.01, "Sympathy for the Devil" (dl link)

mix incudes 19 songs in a zip file, and the cover art (I think.). no back cover because the front one alone took me two hours and I'm pretty sure I will never again be able to replicate what I did with that, so. one-time deal. leave it or take it, I say take it. like a shot of demon blood as you bargain for your brother's soul back as dead wind blows down your neck and a demon curls her fingers in your hair. Yep.